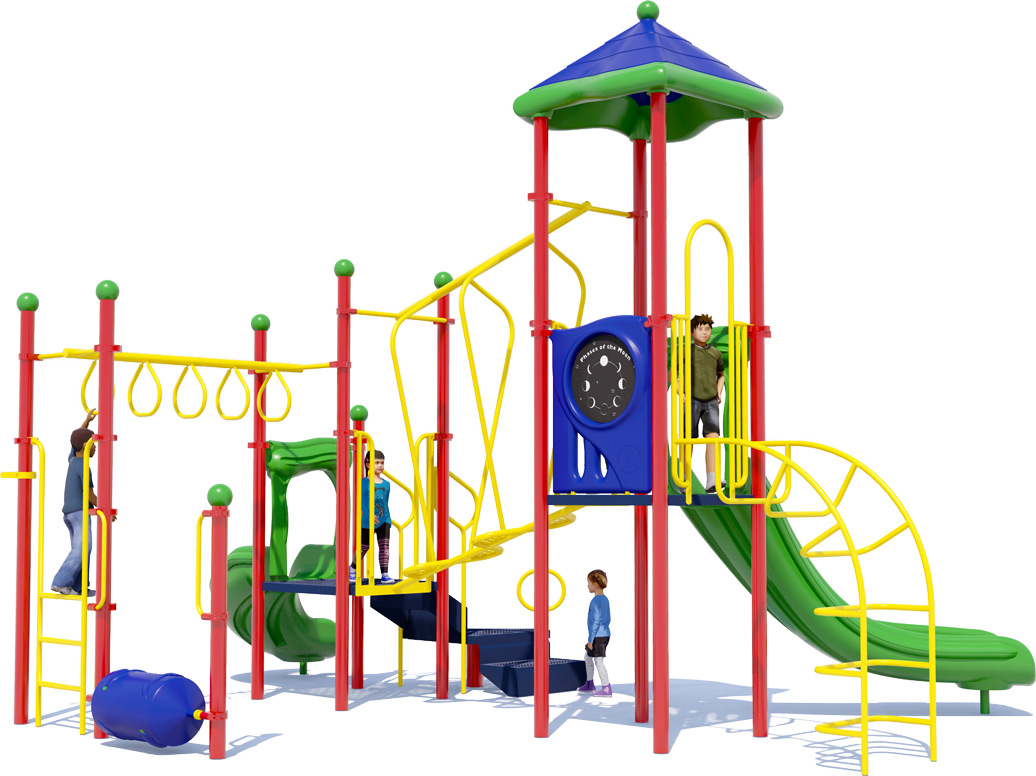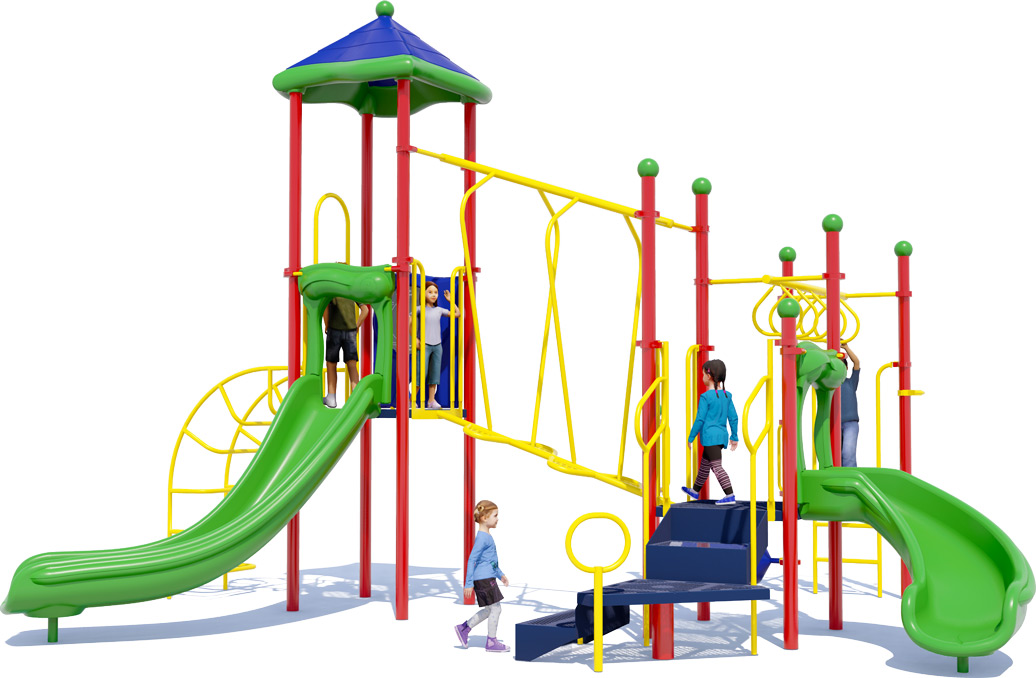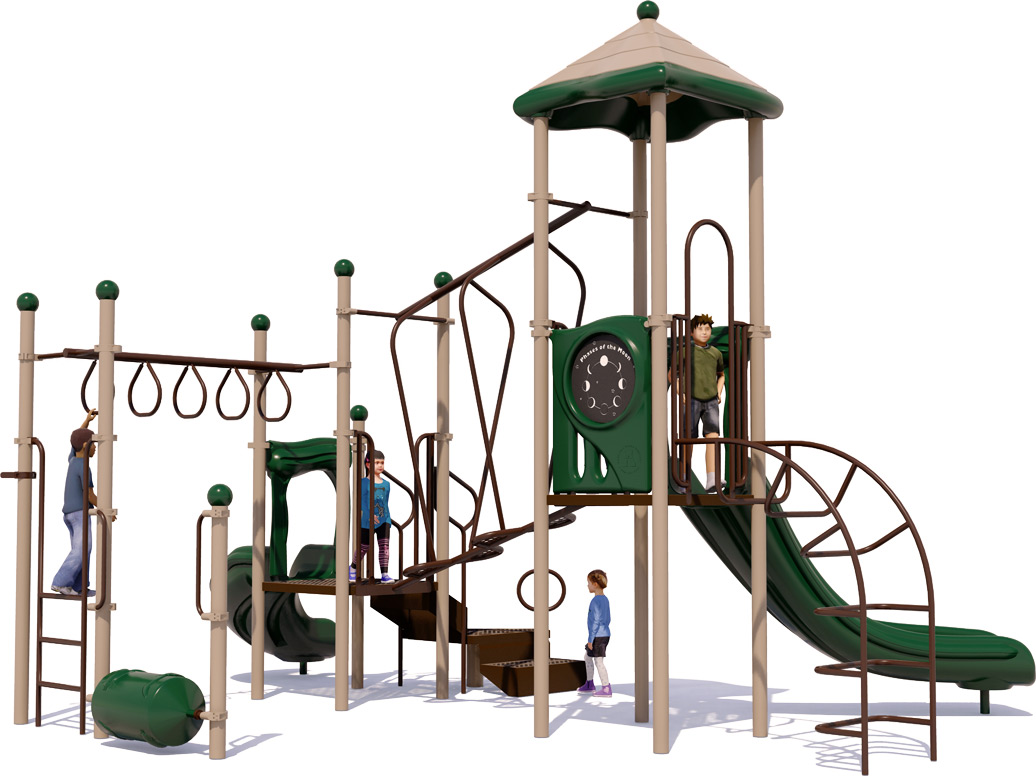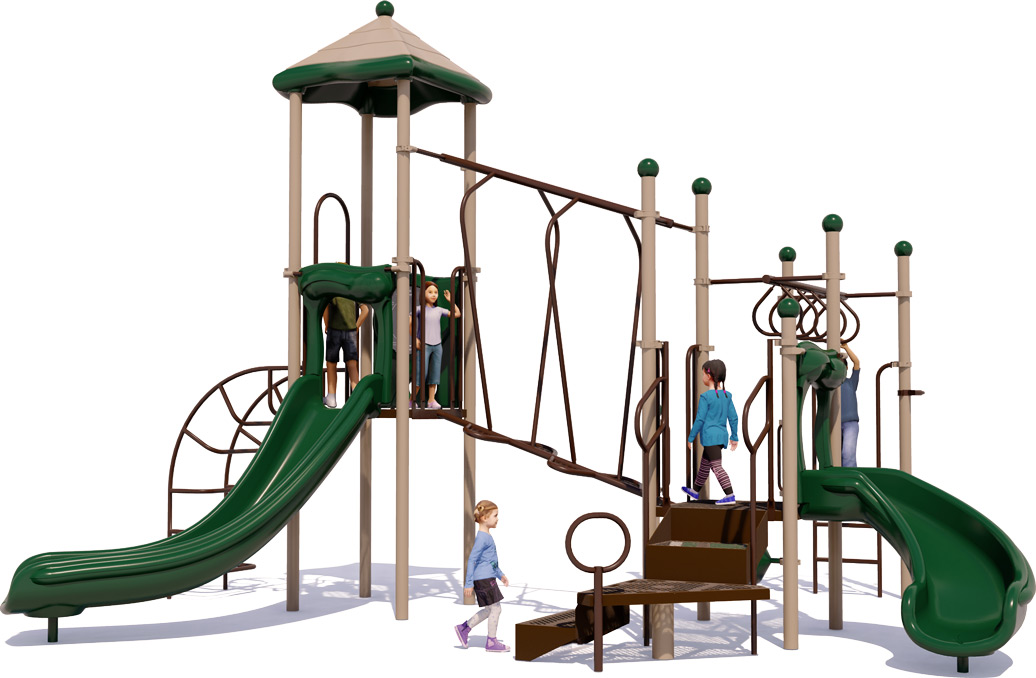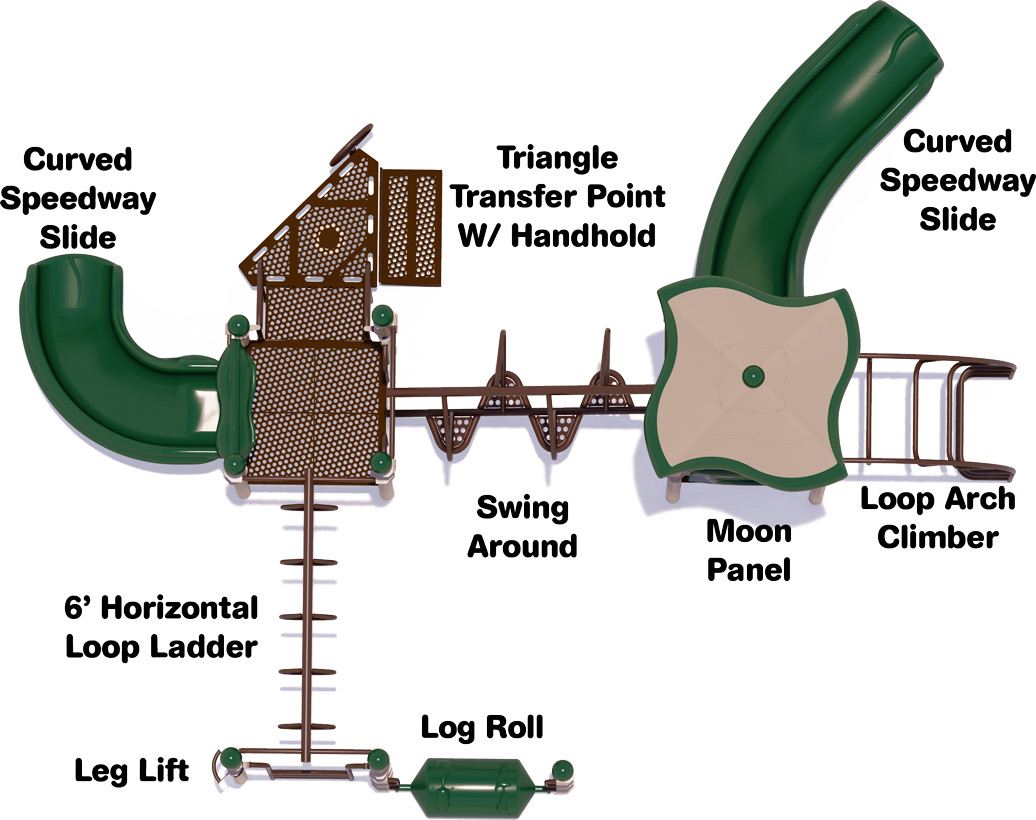 Speak with a Playologist
We are available Monday - Friday 8am - 5pm CST
At All People Can Play we know that it can be overwhelming to select a quality commercial playground. Face it, how often are you tasked with purchasing commercial-grade equipment that costs more than a car, but less than a house, in such a specialized field?
It can be daunting for sure, but we have the expertise that not only goes in to the planning and configuring of play structures, but down to the very play activities themselves. Years of research goes into that kind of planning. So when you select something like the Island Escape commercial play structure, you only have to think about the items you'd want to play with if you were a kid. We've taken care of safety standards compliance, and the like.
The Island Escape commercial playground structure has been designed to accommodate up to 35 children ages 5 to 12 years old. Its 8 play activities cover the gamut; from simple yet fun slides, to challenging agility climbers that promote health and fitness, to panels that engage children's minds.
This commercial playground equipment features:
2 Curved Speedway Slides for classic entertainment
6' Horizontal Loop Ladder overhead climber for building upper body muscles
Leg Lift that encourages a core muscle strengthening exercise
Log Roll to improve lower body agility
Loop Arch Climber that relies on both upper and lower body coordination
Swing Around challenge that improves balance and improves confidence
Moon Phase Panel for an outdoor educational opportunity
A Square Roof for partial UV protection and temperature moderation
3.5"O.D. x 12 gauge galvanized & powder-coated aluminum posts
Lead-free & PVC-free polyethylene plastisol coated punched steel play decks
UV Stabilized rotationally-molded plastic components
High-density polyethylene (HDPE) plastic activity panels
Aluminum posts are powder-coated to customer color specifications, and are backed by a Lifetime Limited Warranty. All plastic components and punched steel decks are guaranteed by a 15 year limited warranty. Metal pipes, rungs, loops, and rails come with a 50 year limited warranty.
The structure is ADA accessible, and meets or exceeds all requirements from the American Society for Testing and Material (ASTM) and Consumer Product Safety Commission (CPSC).
Choose from two standard color options in bright primary colors or natural, neutral tones or ask about customizing with a color scheme to match your existing building or other park structures. For additional safety we recommend our quality playground surfacing, which comes in a variety of options, including: wood fiber, rubber mulch, safety tiles, or more.
Trust the playground experts at All People Can Play to help you plan, source and select the right commercial playground structures, site furnishings and amenities you need to design your perfect park. With more than thirty-years of experience we are a leading brand name in professional playground projects. Call us at 1-888-404-4416.