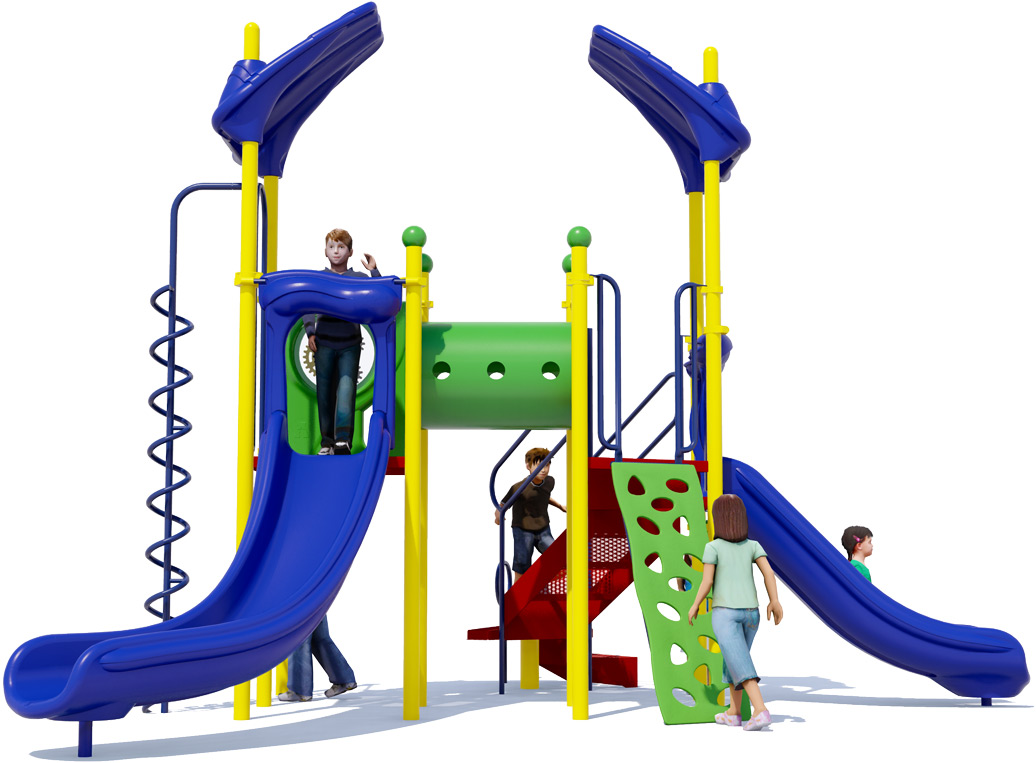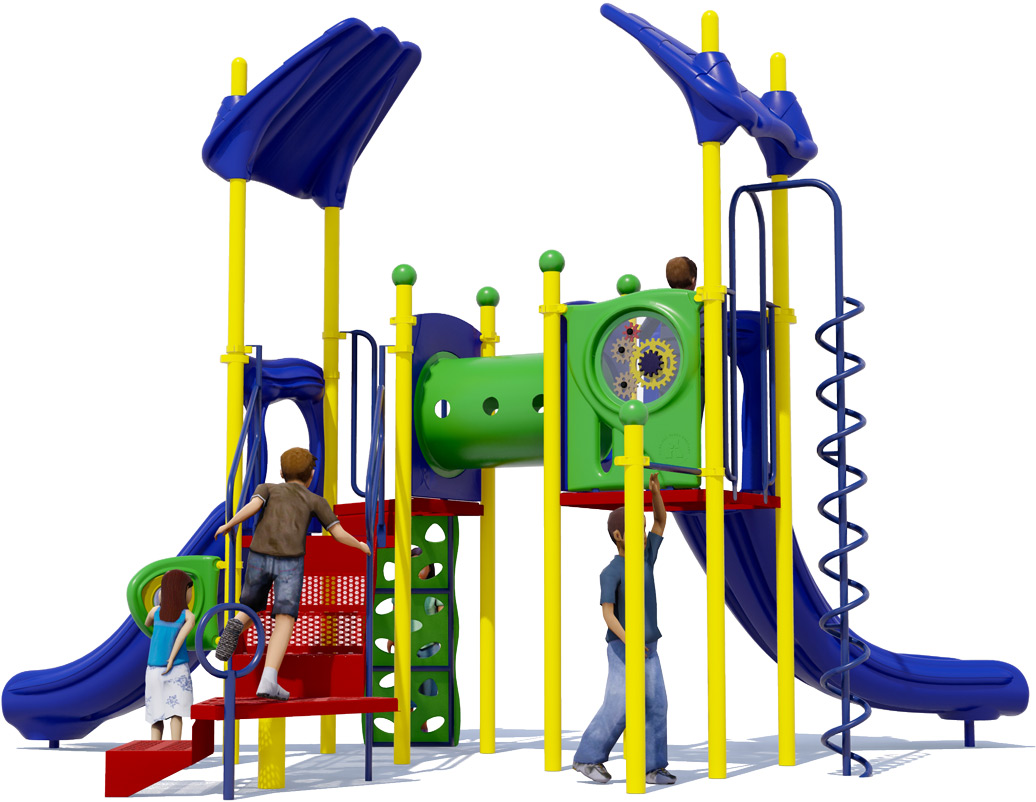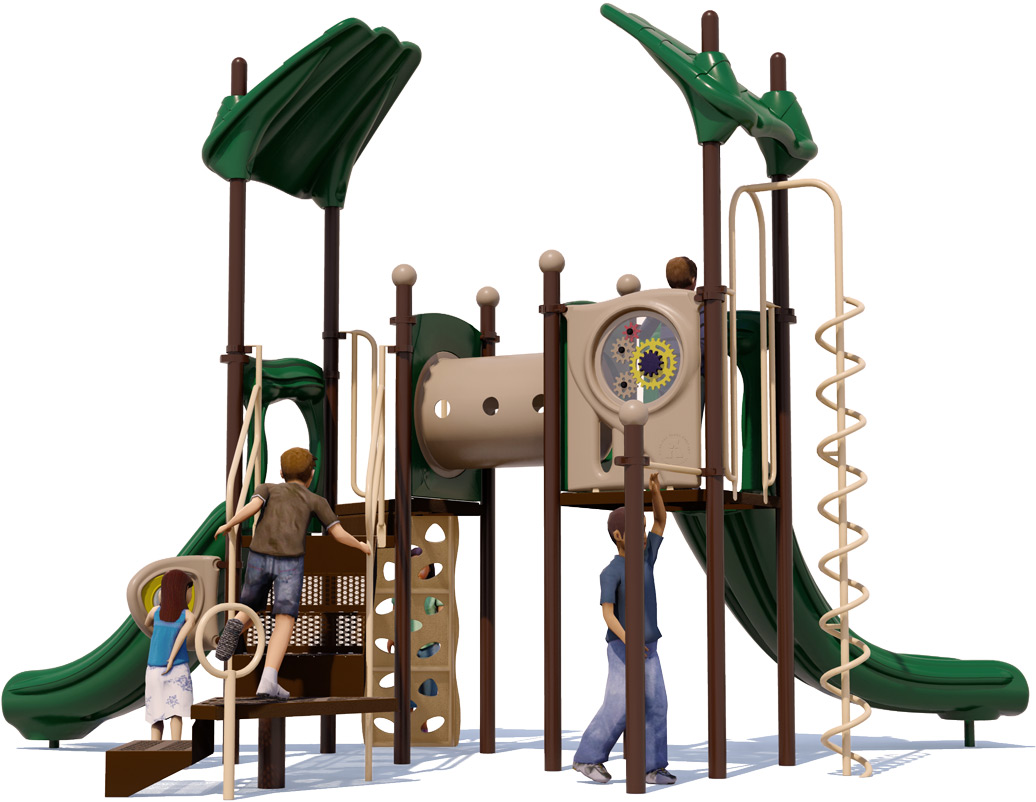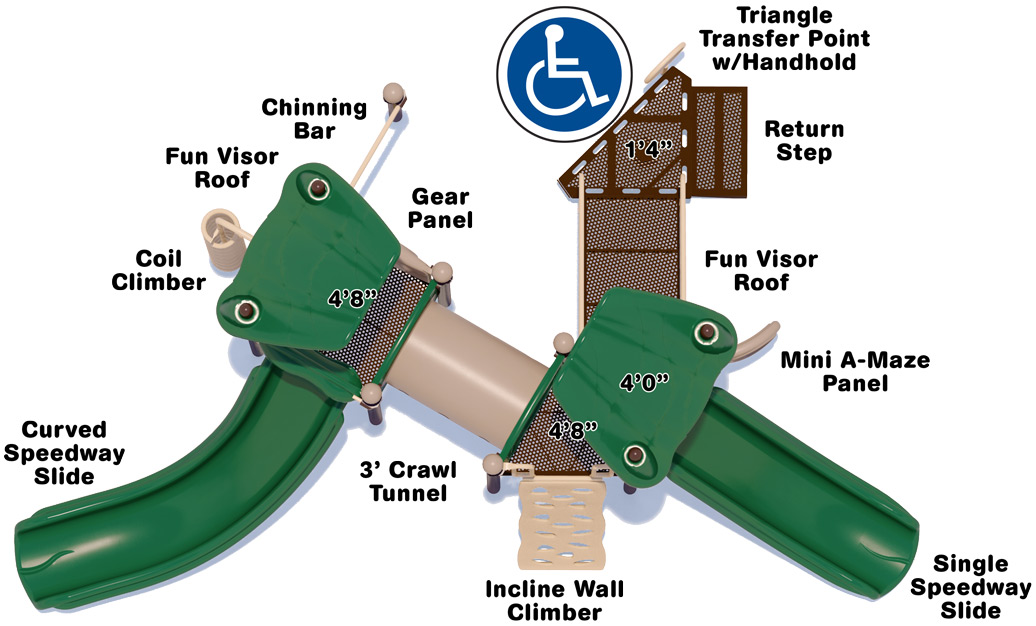 Speak with a Playologist
We are available Monday - Friday 8am - 5pm CST
The Independence play structure is a perfect design for schools, daycares, churches, and other organizations looking for a lot of play value for not a lot of money. It has 8 activities that are both fun and challenging. It features two slides covered by Fun Visor Roofs which are accessible by either a simple staircase, or by two types of climbing activities, and two ground level activities for inclusive play.
The playground equipment requires an approximate 33' x 25' use zone which provides up to 25 children, ages 2 to 12 years old, with multiple fun and physical activities. With 2 climbers, a chinning bar, and a set of tall stairs, the children of your organization will have ample opportunity to build upper and lower body strength all while having fun. The Gear Panel, Crawl Tunnel, and A-Maze Panel allow children to learn and socialize in an outdoor setting.
The playground equipment on the Independence includes:
• Curved Speedway Slide
• Single Speedway Slide
• Inclined Wall Climber
• Coil Climber
• Crawl Tunnel
• Chinning Bar
• A-Maze Panel with Echo Chamber
• A Gear Panel
• 2 Fun Visor plastic roofs
The commercial-grade components of this play structure feature:
• UV stabilized and rotationally molded plastic parts.
• Lead-free Polyethylene coating for optimal durability.
• 12 gauge galvanized aluminum posts are 3.5 in diameter.
• 15 year limited warranty on decks and plastic components.
• Metal pipes, rungs, loops, and rails are backed by a 50 year warranty.
• Aluminum posts, steel hardware, aluminum decks, component clamps, and aluminum post caps are backed by a lifetime limited warranty.
• ASTM and CPSC safety certified.
• ADA Accessible structure for inclusive play.
All People Can Play is a brand leader in quality commercial playground structures, park furnishings, and much more. Our team of playground experts will provide planning support and assistance to help you get the right playground at the right price.
Are you ready to create your new playground? Call us at 1-888-404-4416.