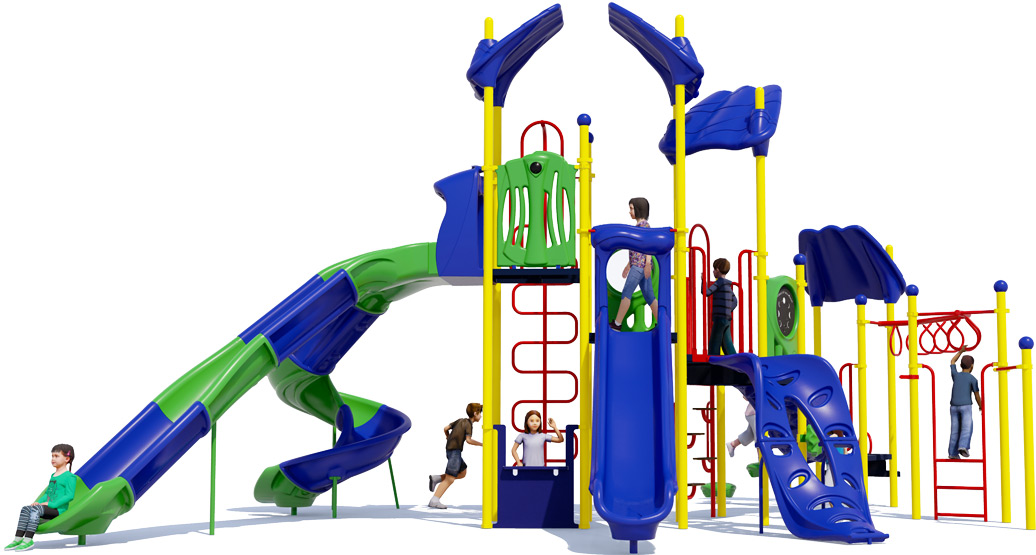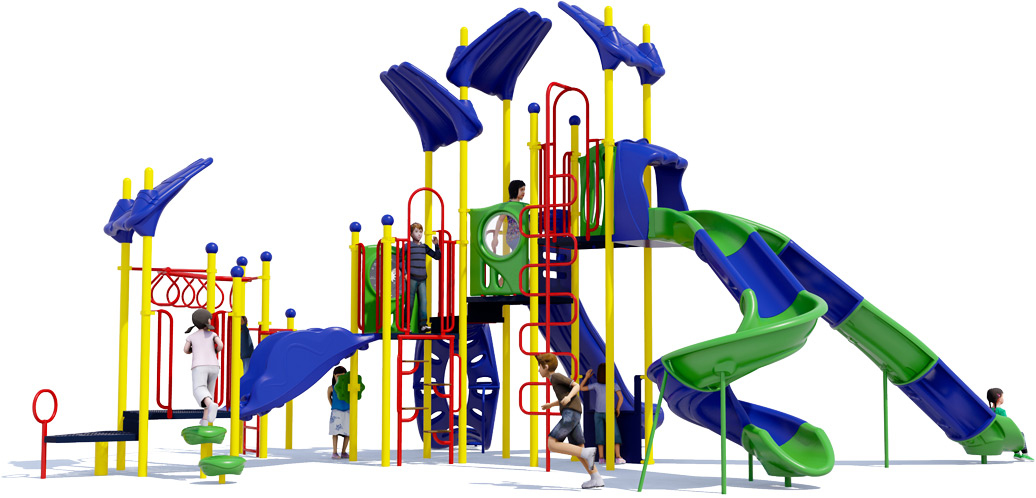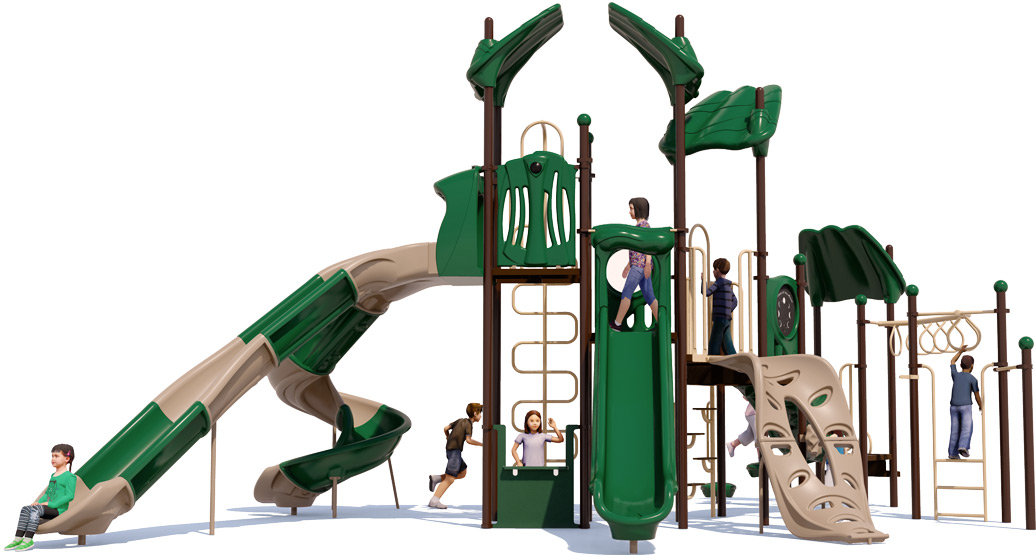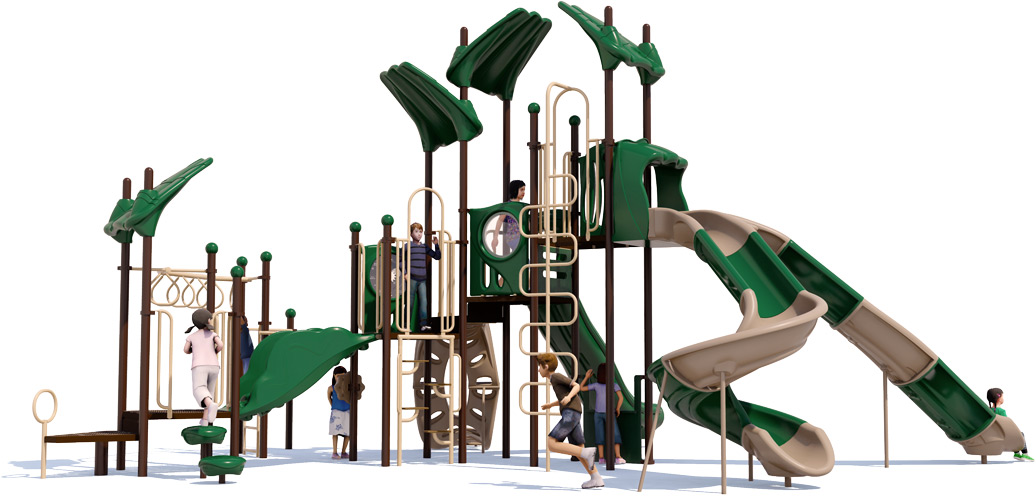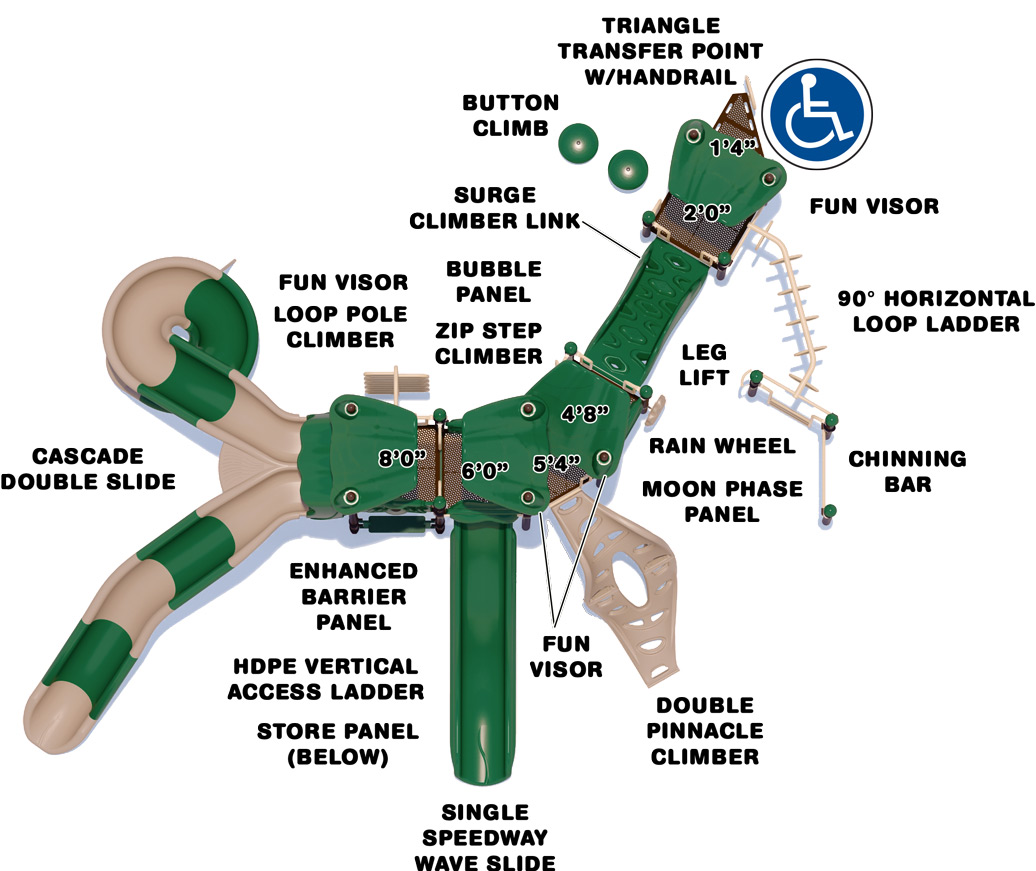 Speak with a Playologist
We are available Monday - Friday 8am - 5pm CST
The Propylon is a commercial play structure designed to accommodate up to 45 children ages 5 to 12. It has 14 activities designed for fun, fitness, learning, imagination and socialization. It would be a perfect solution for your HOA playground.
This play structure provides six different climbing activites for children of all ability levels. The Loop Pole Climber, Zip Step Climber, and Button Climb steps allow access to the upper decks and engage the lower-body muscle groups. The Leg Lift, Chinning Bar and 90° Horizontal Loop Ladder are excellent upper-body fitness activities particularly for children who have special mobility needs, and it are accessible from the ground level. The Surge Climbing Link connects lower to upper decks with hand and foot hole molds, and are designed with wing walls to provide handrails for less confindent climbers.
The commercial playground equipment features:
• Cascade Double Slide, with spiral and curved designs.
• A Single Speedway Slide for high speed (but safe) fun.
• A Surge Climber Link for simulated rock wall climbing.
• A Loop Pole, Zip Step Climber, HDPE Vertical Ladder to help children access the upper decks.
• 90° Horizontal Loop Ladder for overhead climbing.
• Ground level Button Climb steps.
• Double Pinnacle Climber
• Chinning Bar
• A post-mounted Leg Lift handhold at ground level allows kids to work out core muscle groups.
• A Store Panel below deck and an above deck Bubble Panel encourage imaginative play.
• The Moon Phase Panel is included for outdoor learning.
• Four Fun Visor plastic roofs offer some shade relief.
The structure is constructed from lead-free polyethylene coated punched steel decks, 3.5"O.D. galvanized 12 gauge upright posts, UV stabilized rotationally molded plastic components, and high-density polyethylene activity panels. Upright posts are powder-coated to customer color specifications, and are backed by a Lifetime Limited Warranty. All plastic components and decks come with a 15 year limited warranty. The metal pipes, rungs, loops, and rails associated with climbers come backed by a 50 year limited warranty.
Choose from two standard color options in bright playful colors, or natural tones, or ask about customizing with your own unique color scheme to match your organization's other park equipment. For additional safety we recommend our quality playground surfacing which comes in a variety of options including engineered wood fiber, recycled rubber mulch, artificial turf and more.
All People Can Play is a leading provider of quality commercial playground equipment, park and playground furnishings and much more. We offer an industry leading warranty on all our products, and our playground experts can help you design a park that suits your community and your budget. Call us at: 1-888-404-4416.