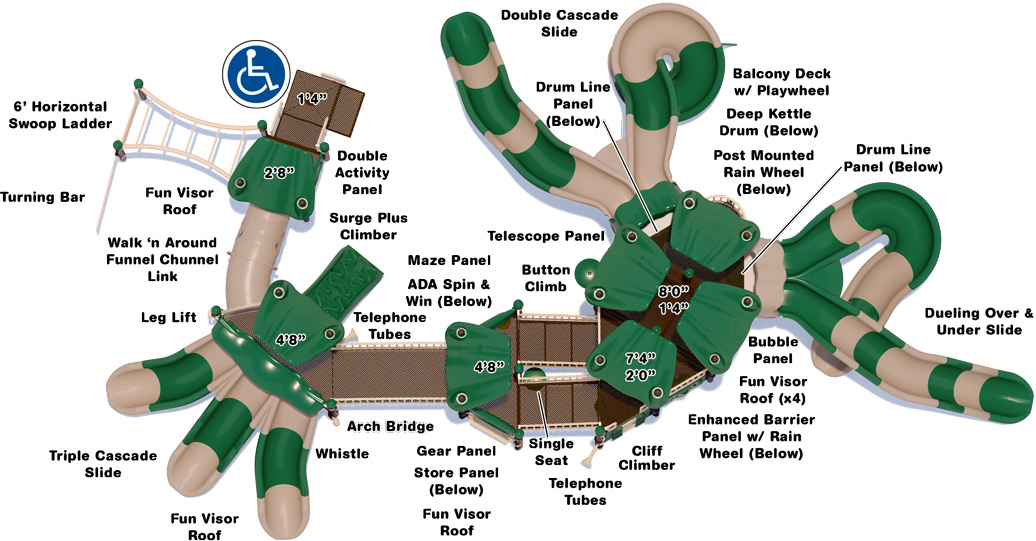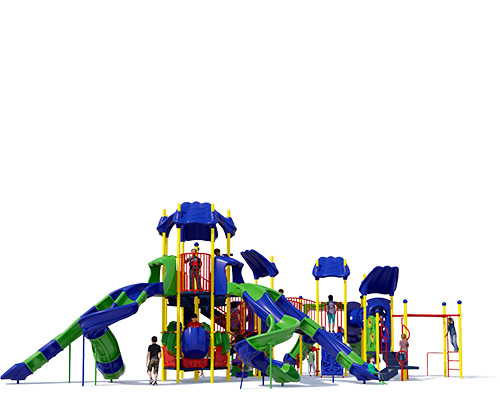 Speak with a Playologist
We are available Monday - Friday 8am - 5pm CST
Introducing Maximus, our largest commercial play structure we offer. It will be the centerpiece of your community park. It features 29 play activities designed to engage over a hundred children ages 2 to 12 in all play types. Your kids will be entertained!
Maximus is a double-decker design, with the area intended for children ages 5 to 12 at both 8' and 1'4" deck elevations. It feature two double slides so kids can race their friends to the bottom in either a curved, spiral, or criss-crossing fashion. And with our Fun Visor roofs covering the top deck, it will keep kids shaded in an open play space setting. The area intended for children ages 2 to 12 is separated by an Arch Bridge, and features a triple slide, crawl tunnel and plenty more!
This playground design also features 4 different climbing challenges at various heights to allow children of all confidence levels to get physically fit while they play! There are areas of imaginative play as well, with a Store Panel, House Panel, Telephone Tubes, and more! For the musically inclined child, there are several kinds of drums, a Rain Wheel, Whistle, and more. And for the discerning parent and teachers out there, the Maximus also includes activity panels designed to promote mechanical interactions with our Gear Panel. Every style of play is included!
The Maximus includes:
• Dueling Over and Under Slides
• Cascade Double Slide with Spiral
• Balcony Deck with Playwheel
• Telescope Panel
• Bubble Panel
• Cliff Climber
• Gear Panel
• Maze Panel
• (2) Drum Line Barrier Panels
• Deep Kettle Drum Panel
• Post-mounted Rain Wheel
• (2) Telephone Tubes
• Single Post-mounted Seat
• Below Deck Store Panel
• Below Deck House Panel
• Ground Level ADA Spin & Win Panel
• Whistle
• Triple Cascade Slide
• Leg Lift
• Surge Plus Climber
• Walk 'n Around Funnel Chunnel Link
• Double Activity Panel with Echo Chamber and Hypno Wheel
• 6' Horizontal Swoop Ladder overhead climber
• Turning Bar
• 7 Fun Visor Roofs
• ADA Transfer Station
Our playground structures are made with top-quality, commercial-grade materials and parts that resist corrosion, color fading and mildew. They also meet the public playground safety standards mandated by the ASTM and CPSC.
The posts are 3.5" in diameter, 12 gauge galvanized steel, powder coated for a superior high gloss finish, and backed by a limited 50 year warranty. Plastic components are rotationally molded for superior strength and are UV stabilized to prevent fading. We offer an industry leading 15 year limited warranty on our plastic components.
Our revolutionary polyethylene coating is lead free and even more durable than traditional plastisol coatings. Our decks carry a 15 year limited warranty.
All People Can Play is a leading provider of commercial playground equipment and site amenities. Choose from an array of colors and combinations to create a one-of-a-kind playground. Call 888-404-4416 to speak to a playground specialist and get a FREE Custom Playground Quote.