Budgeting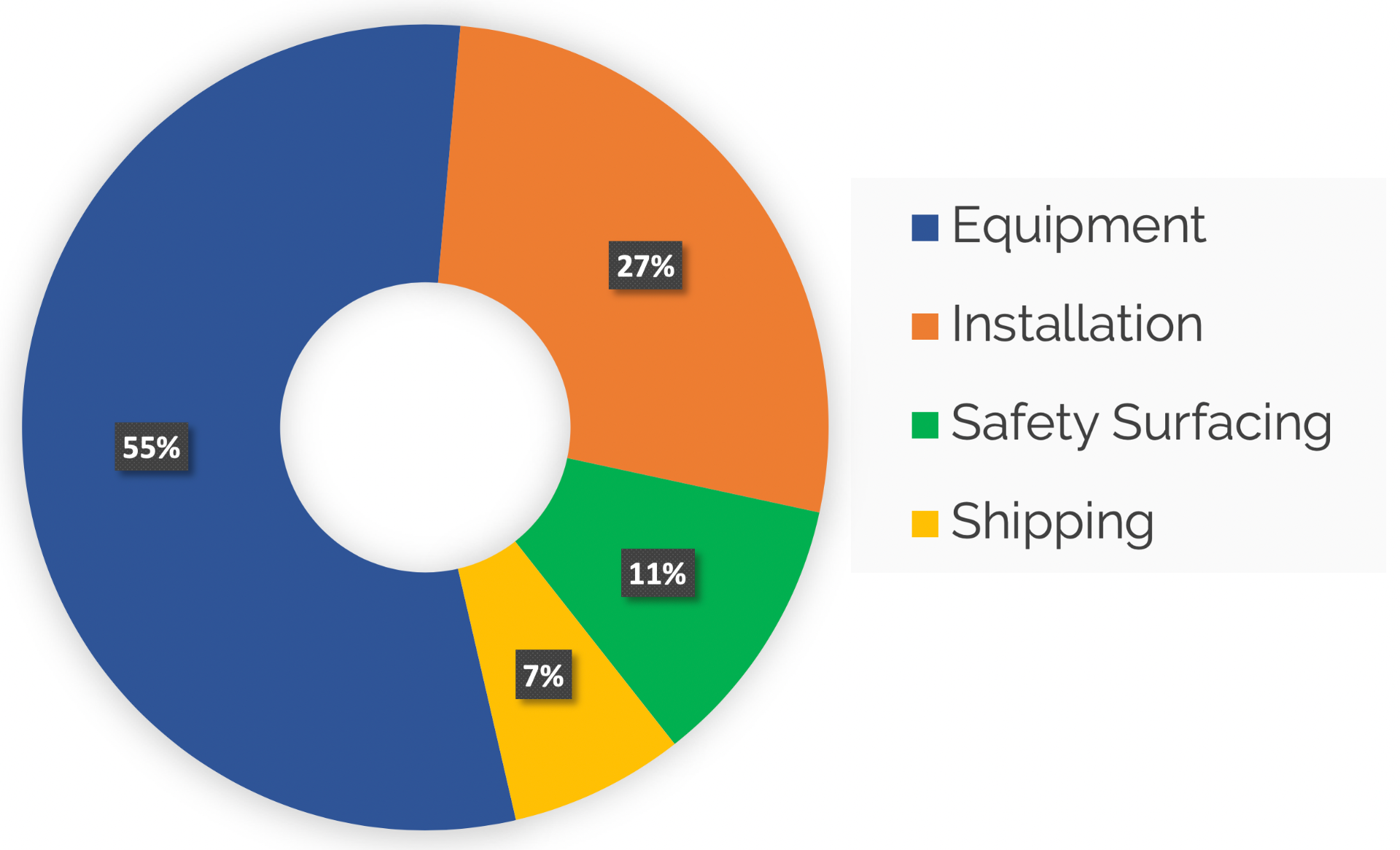 How much does a commercial playground cost?
The average commercial playground costs $27,000
What is the average size of a commercial playground?
The average size of a commercial
playground is 35' x 27' or 945 sq ft.
What are the costs involved in building a commercial playground?
Whether your budget is predetermined or you have the responsibility of researching and gathering all the costs involved in a project, we want to help ensure you have no surprises. It is important to have all the right details to make an informed buying decision. Playground expenses typically include:
Equipment - 55% of the Project
Play structures are most often the centerpiece around which your whole play area is built. Since these items are the star of the show, determining your budget should begin with identifying the play, fitness, and learning components you want to incorporate. Composite play structures are great because they pack a lot of activity into a consolodated footprint. Independent play pieces and site amenities are typically chosen as supplements to a composite play structure. Once you have the square footage of your play area and the structures you would like in mind, building the rest of the budget is easy.
---
Surfacing – 11% of the Project
There are typically 3 factors that go into choosing the best safety surfacing option for you: Price, Durability, and Aesthetics. Use the links below to learn more about the different type of safety surfacing we offer.
---
Installation - 27% of the Project
All People Can Play's certified installers gives you the peace of mind that your playground is compliant with Consumer Product Safety regulations. All People Can Play requires our installation teams to maintain up-to-date Certified Playground Safety Inspector training. Should you choose to provide your own installation, this will not void the industry leading warranty on your equipment.
---
Shipping - 7% of the Project
Play structures can be large and weigh hundreds of pounds, so APC Play ships them to your location using freight services from some of the nation's most trusted freight carriers. Depending on the size of your purchased items, they will be delivered on a dedicated truck, or as part of a shared truck load. Size, weight, distance, and timing restrictions can impact the cost of freight, but you can rest assured that we will negotiate with our network of carriers to ensure you the best price available.
---